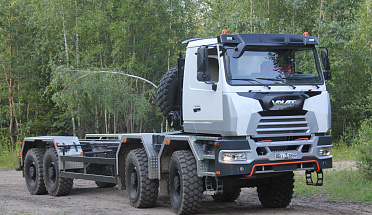 Minsk Wheel Tractor Plant has delivered a brand-new MZKT-750004-10 chassis to Riat, OJSC (Russia).
Four-axle, all-wheel drive chassis (8x8) is designed for installation of specialized equipment weighing up to 29.7 tons.
This VOLAT chassis belongs to N3G category by GOST 31286. This is an off-road heavy-duty vehicle designed for operation mainly off public roads. It can be operated on roads intended for vehicles with appropriate weight parameters.
YAMZ-653 engine (308.8 kW) of Euro-5 emission standard and an own-manufactured mechanical nine-speed gearbox are mounted in VOLAT chassis.
Interaxle and inter-wheel differentials have slip control mechanism that is actuated from driver's cab and has an electropneumatic drive.
Wheels - single, tires - 16.00R20 pneumatic, tubeless. Tire pressure control system is included.
The cab is all-metal, two-seat and is equipped with an integrated microclimate system with automatic temperature control.
Fuel tank - 500 l.
The chassis will be used for installation of a modern high-performance vacuum unit. Vacuum technology is a successful solution in dust-free industrial cleaning of internal premises, bulk cargo transfer stations or car dumpers at mining plants, metallurgical plants, mooring berths or warehouses, on fire passages, roads or railways, effectively implementing the environmental program. RIAT, JSC project is supported by the Industrial Development Fund.