As an alternative for the MAZ-7906 chassis, within the scope of the Tselina-2 program, the first pilot item of the unique 12-axle MAZ-7907 chassis was made in March 1985 for the same self-propelled launcher
As an alternative for the MAZ-7906 chassis, within the scope of the Tselina-2 program, the first pilot item of the unique 12-axle MAZ-7907 chassis was made in March 1985 for the same self-propelled launcher
The results from earlier developments of chassis with electrical transmissions carried out by the plant were used in this design. The vehicle completely different from any others consisted of two six-axle all-wheel-drive links connected with each other by special hinged joint assemblies. Four front axles and four rear axles were made steerable resulting in the minimal turning radius 27 meters with the chassis length 28187 mm. The vehicle width is 4100 mm, height is 4410 mm, curb weight is 65800 kg, load capacity is 150000 kg.
This missile carrier was driven by the GTD-1000TFM gas turbine engine, 1250 hp.
In September 1987, comparative tests of pilot items of special all-terrain and super-high load capacity wheel vehicles, MAZ-7906 and MAZ-7907, were completed successfully.
The characteristics obtained during the chassis tests completely met the very high specification requirements.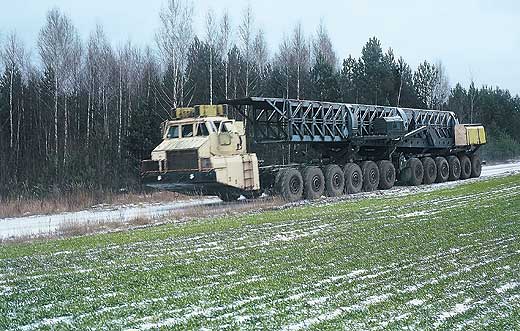 However, due to the decision to develop the RT-23 UTTH missile as rail-based, the Tselina-2 project was cancelled.
The MAZ-7907 chassis is long-base, consisting of two six-axle all-wheel-drive links coupled by a hinge, with the axle configuration 24x24 and with steerable wheels of four front axles and four rear axles, resulting in the minimal turning radius 27 meters.
The chassis is provided with the PD-1000 TMF gas turbine motor, 1250 hp (919 kW), made by Leningrad Scientific and Production Association n.a. Klimov, and the TE 660-24 AC electric transmission with a separate drive for each wheel.
The frame is made of two welded half-frames (front and rear) connected by joint assemblies.
Wheel suspension is independent hydropneumatic suspension with the pneumatic coupling in the suspension for each pair of wheels at the chassis side and with the frame position control system.
Chassis load capacity: 150000 kg.
Chassis curb weight: 66000 kg.
Maximum speed: 25 km/hour.
Fordable depth: 1.1 m.
Chassis dimensions: length, 28187 mm, width, 4800 mm, height, 4450 mm.